XII
Labour and Social Sector
1. Labour
a) Wages and Earnings (All-India)
Following are the daily wage rates for agricultural and non-agricultural occupations in rural India , for the month of October 2005, compiled and analysed by Labour Bureau, by occupation and gender, on the basis of recommendations made by National Sample Survey Organisation (NSSO).
Table 12.1: Average Daily Wage Rates for Agricultural and

Non-Agricultural Occupations in Rural India during October 2005

(in Rs.)

Agricultural

Average daily wage rate

Non-agricultural

Average daily wage rate

Ploughing

Men

76.50

Carpenter

Men

115.83

Women

38.52

Women

-

Children

@

Children

@

Sowing

Men

68.02

Blacksmith

Men

89.82

Women

46.36

Women

-

Children

38.37

Children

@

Weeding

Men

59.11

Cobbler

Men

65.44

Women

47.78

Women

-

Children

33.32

Children

@

Transplanting

Men

64.01

Mason

Men

125.70

Women

53.07

Women

-

Children

39.79

Children

@

Harvesting

Men

66.69

Tractor driver

Men

85.34

Women

53.03

Women

-

Children

34.31

Children

-

Winnowing

Men

61.91

Sweeper

Men

51.41

Women

46.80

Women

50.87

Children

29.00

Children

@

Threshing

Men

65.36

Unskilled labourers

Men

62.81

Women

50.84

Women

47.32

Children

35.86

Children

30.88

Picking

Men

60.83

Women

46.94

Children

30.52

Herdsman

Men

42.02

Women

31.56

Children

28.97

Well digging

Men

94.69

Women

51.43

Children

@

Cane crushing

Men

66.73

Women

41.50

Children

@

Notes: '-' means that a particular category of workers was not engaged in that operation or the activity

was not undertaken or it was out of season.

@ means number of quotations are less than five.

The average daily wage rates at All-India level are derived by dividing sum total of wages

by number of quotations of all the states

Source: Indian Labour Journal, Labour Bureau
One of the evident features of gender discrimination can be found in differing wage rates received by male and female labourers. It is evident that the average daily wage rates for men labourers engaged in agricultural as well as non-agricultural occupations are higher than those earned by their women and children counterparts. The wage rates for males in some of the agricultural occupations like ploughing and well-digging are almost double the wages of their women counterparts.
b) Industrial Disputes
The trends in industrial harmony is reflected in the number and spatial dispersion of strikes/lockouts, number of workers involved and man days lost, number of units reporting retrenchment and the extent of lay offs. These trends are monitored by the Labour Relations Monitoring Unit set up in 1981 under the Ministry of Labour and Employment. As per the available information, the total number of strikes and lockouts was 552 in 2003 as compared to 579 in 2002, a decline of 4.7 per cent. However, the number of workers affected due to these disturbances increased by approximately 68 per cent during the same period. On the other hand, the number of disputes declined by 15 per cent in 2004 when there was only 3.7 per cent increase in the workers involved in these disputes. The man-days lost during 2004 registered a decline by about 53 per cent. Thus the industrial relations, though moving towards greater harmony have exhibited an erratic pattern of behavior.
However, a decline in the number of industrial disputes has been consistent since 1998, as shown in Table 12.2 and a chart. The number of disputes declined by about 16 per cent per annum during 1998 to 2000 and around 12 per cent during 2001 and 2004. A sizeable decline of 15 per cent has been registered in the year 2004.
Table 12.2: Industrial Disputes (in numbers)

Year

Number of Disputes

Workers involved ('000)

Man days lost (in millions)

Strikes

Lockouts

Total

Strikes

Lockouts

Total

Strikes

Lockouts

Total

1995

732

334

1066

-11.2

683

307

990

17

5.72

10.57

16.29

-22.3

1996

763

403

1166

9.4

609

331

939

-5.2

7.82

12.47

20.28

24.5

1997

793

512

1305

11.9

637

344

981

4.5

6.3

10.68

16.97

-16.3

1998

665

432

1097

-15.9

801

488

1289

31.4

9.35

12.71

22.06

30.0

1999

540

387

927

-15.5

1099

212

1311

1.7

10.62

16.16

26.79

21.4

2000

426

345

771

-16.8

1044

374

1418

8.2

11.96

16.8

28.76

7.4

2001

372

302

674

-12.6

489

199

688

-51.5

5.56

18.2

23.77

-17.4

2002

295

284

579

-14.1

900

179

1079

56.8

9.66

16.92

26.58

11.8

2003

255

297

552

-4.7

1011

805

1816

68.3

3.2

27.04

30.25

13.8

2004

239

230

469

-15

1742

141

1883

3.7

3.9

10.4

14.3

-52.7

2004* (Jan to Oct)

189

215

404

1587

135

1722

3.4

10

13.5

2005* (Jan to Oct)

161

197

358

-11

1288

157

1445

-16

3.5

9.2

12.7

-6.0

Note: * provisional

Figures for 2005 are not strictly comparable with those for 2004 in view of the incomplete coverage of the former.

Figures in italics are percentage change over the previous year.

Source: 1. Indian Labour Journal, Labour Bureau, various issues

2. Ministry of Labour and Employment, 2004-05
The number of industrial disputes, workers involved and the man days lost registered a decline by 11 per cent, 16 per cent and 6 per cent respectively, during January-October 2005 as compared to those in the corresponding period last year. This essentially shows the declining impact of unionism in India . Unlike olden days, the trade unions now generally abstain from giving a call for strike and prefer to resolve the major disputes through negotiations. Apart from reforms and competition, the factors which have reduced the unionism, are technological progress and the changing composition of the workforce with increased supply of new labour market entrants, particularly women and the practice of flexible labour market policies. A comparison of the pre and post reform decades clearly reveals a substantial decrease in the loss of man-days. During 1981-90, pre-reform decade, as many as 402.1 million man-days were lost which considerably declined to 210 million man-days during 1991-2000 in the post-reform decade (Press Information Bureau, April 2005). Indeed, a declining number of industrial disputes exhibit relative improvement in labour relations as compared to olden days, conducive to faster industrial growth.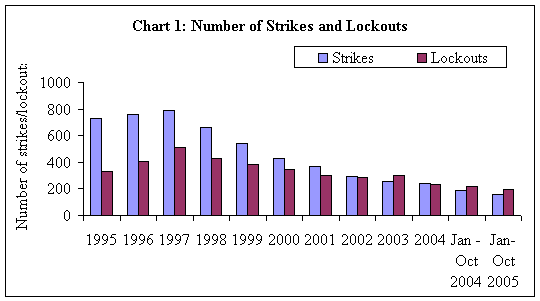 During the period of January-October 2005, there were 218 disputes in which 50,577 workers were affected and 5,939,458 man days were lost due to the reasons other than industrial disputes.

Spatial Distribution
The spatial/industry-wise dispersion of the number of strikes and lockouts and the workers involved is not uniform. State-wise analysis of industrial relations during 2005 (January to October) portrays that states like West Bengal (185), Tamil Nadu (38) and Gujarat (23) experienced maximum instances of strikes and lockouts (Table 12.3).
Table 12.3 State-wise Industrial Disputes during January to October, 2005

State

Number of

Disputes

Workers

Involved

Man days

Lost

West Bengal

185

161441

8231668

Tamil Nadu

38

20290

388351

Gujarat

23

47496

104365

Andhra Pradesh

16

98488

750278

Haryana

13

17919

454012

Kerala

13

62681

112547

Rajasthan

13

34513

1165142

Uttar Pradesh

12

20811

51291

Himachal Pradesh

10

5821

22874

Karnataka

9

65734

339026

Maharashtra

7

856999

860094

Punjab

5

4132

38872

Assam

5

17182

78898

Madhya Pradesh

2

20162

20212

All India

358

1446303

12666571

Note: All-India total may not add up to actual total due to exclusion of some states and union territories.

Source: Labour Bureau, Ministry of Labour and Employment
Interestingly, despite higher number of industrial disputes in Tamil Nadu as compared to Gujarat, the number of workers involved in disputes in Gujarat is more than double as compared to Tamil Nadu. What is even more interesting is that in terms of man-days lost, Tamil Nadu has once again showed higher count as compared to Gujarat . This might be attributed to relatively prolonged disputes in Tamil Nadu as compared to those in Gujarat as also in Rajasthan.
In terms of state-wise permanent closures and workers affected thereby, during January-October 2005, the state of Tripura has recorded the highest numbers (37 number of units were closed down as against 1999 number of workers affected) followed by Uttar Pradesh and Karnataka. Similarly, in terms of number of units affecting retrenchment and workers affected thereby, the state of Orissa has registered the maximum numbers (mostly in the central sphere), followed by Himachal Pradesh.
Industry-wise Scenario
The industries facing intense agitation from workers were textiles, engineering and chemicals, where indiscipline and violence, wages and personnel issues were the primary causes of strikes and lockouts. In terms of industry-wise permanent closures and workers affected thereby during January-October 2005, the manufacturing sector has recorded the highest number (56 number of units were closed down as against 2774 number of workers affected) as compared to other industries like mining and quarrying, hotels and restaurants and other 'community, social and personal services'. Similarly, in terms of number of units affecting retrenchment and workers affected thereby, the 'mining and quarrying' registered the maximum numbers (all in the central sphere) followed by the manufacturing segment and 'electricity, gas and water supply' segment.
In order to rationalise labour laws in terms of regulating working hours and wages of contract labour and establishing a machinery for a dispute resolution, some of the state governments like Andhra Pradesh, Madhya Pradesh and Maharashtra have proposed to seek relaxation in provisions of the central laws through State enactments. The government of India has also constituted several Industrial Tripartite Committees to resolve industry-specific labour problems in the cotton textile industry, electricity generation and distribution, jute industry, road transport and engineering industry. These committees are expected to serve the interests of both the employers and the workers by the spirit of co-operation.
Current Developments
No doubt that the overall scenario of labour relations has shown considerable improvement in recent years. However, despite encouraging numbers, the recent strike of 400 Toyota Kirloskar workers which resulted in Rs 51 crore loss to the company and a protest of Honda Motor workers, which took violent turn in July 2005 have shattered the record of a decade of relative peace. There are number of similar instances of threatening of strikes by trade unions on various issues in 2005 like, EPF rate negotiations and upcoming Sixth Pay Commission. A World Bank study titled 'Doing Business' released last year, has rated India amongst the countries with the most rigid labour laws, which essentially calls for urgent labour reforms.
In a view of the need for labour market reforms, the Planning Commission's panel on 'Inspector Raj' has suggested certain measures like third party scrutiny, self-certification and joint inspection to end the existing 'inspector raj' in the industrial field. The panel has also suggested that ISO 14001 certified enterprises should be granted relaxation from regulatory inspections for environmental laws. It has suggested the development of national standards in consultation with Quality Council of India (QCI) to ascertain compliance of occupational health and safety and labour laws through third party inspection. The Panel has favoured the introduction of a scheme of self-certification which will be liable for inspection only once in five years. Similarly, it has suggested joint inspections by different authorities, which should be carried once in a year. It has also emphasised on quality of inspections and stressed on the need for training and capacity building of inspecting officials.
It has been evident from last several years that corporate India has focused more on minimising labour costs, besides other costs. Computerisation and introduction of new technology has together built up pressures for downsizing the work force. The labour output ratio and the cost of labour to value of production of 474 big companies (sales above Rs 100 cores) as a whole, declined in 2004-05 over the previous year. Output of these 474 companies taken together increased by 14.29 per cent to Rs 6,76,768 crore in 2003-04 from Rs 5,92,168 crore in 2002-03 and further increased by 25 per cent to Rs 8,47,209 crore in 2004-05. This indicates better labour utilisation by these corporates. The labour cost (salaries and wages, provident fund, gratuity etc) of these companies increased has by 13.4 per cent to Rs 32, 375 crore in 2003-04 from Rs 28, 559 crore in 2002-03 and marginally increased by 1.8 per cent to Rs 32, 971 crore in 2004-05. Therefore, the labour-output ratio steadily declined from 4.82 per cent in 2002-03 to 4.78 per cent in 2003-04 and further to 3.89 per cent in 2004-05.
2. Employment
With the economy growing at a robust near 8 per cent during the current financial year, the employment generation has lagged far behind pushing the economy into a state of jobless growth. The lower employment elasticity of output (which gone down from 0.52 over the years 1983 to 1993-94 to 0.16 over 1993-94 to 1999-2000) reflecting reduction in the labour intensity of output is partly explained by relatively higher number of educated youth and increasing women work-participation rate on the demand side. Yet another supply-side explanation is that, the modern and export-oriented enterprises tend to use more and more capital-intensive technologies to match their counterparts in the developed countries. This has saved labour cost in production processes to a great extent and thereby has displaced number of job aspirants.

Performance of Employment Exchanges
The compulsory notification of vacancies, under the Employment Exchanges Act 1959 (under the Director General of Employment and Training, Ministry of Labour) specifies the main activities of employment exchanges as registration, placement of job-seekers, career counseling, vocational guidance and collection of employment information. Though the actual number of placements effected by these employment exchanges has been quite low to make any significant impact in the magnitude of current unemployment scene, their contribution cannot be overlooked.
Table 12.4: Performance of Employment Exchanges

Year

Number of Employment Exchanges

Registration*

(in 000)

Applicants on live register

(in 000)

Vacancies notified

(in 000)

Placements

(in 000)

Per cent variation in placements

1998-99

860

392

40206

30.2

24.3

1999-00

870

311

40314

22.0

16.0

-34.2

2000-01

873

311

41232

27.9

13.9

-13.1

2001-02

938

220

41596

16.0

11.1

-20.1

2002-03

939

229

40746

22.0

14.0

26.1

2003-04

947

293

40871

30.0

11.0

-21.4

2004-05

947

375

39741

34.3

14.3

30.0

April 2005

947

334

39558

20.1

11.9

May 2005

947

342

39444

21.2

14.4

June 2005

947

938

39824

19.4

10.8

July 2005

947

772

39914

20.6

12.5

Notes: Annual figures relate to end-March, * includes re-registration

Source: CSO, Monthly Abstract of Statistics, various issues
As shown in the Table 12.4, the number of placements by the employment exchanges significantly declined since 1998-99. However, it showed a double-digit increase by 26 per cent for the period 2002-03. It is interesting to note that the years in which the number of placements has increased correspond to the period in which the absolute number of applicants on live register has declined and the vacancies notified have increased. This is evident during 2002-03 and 2004-05. During the first four months of 2005-06, the employment exchanges have been able to generate an average 12.4 thousand jobs.
Overall, the increasing number of employment exchanges has not been able to generate adequate employment from 1998-99 to 2004-05. The number of employment exchanges has remained constant since 2003-04. Moreover, the number of placements has remained a miniscule part of the vast unemployed population of around 26.58 million (as per NSSO 55th round on current daily status basis, 1999-2000). It is imperative to focus on the promotion of self-employment as a necessary step towards achieving gainful employment. This is being done by the exchanges in terms of setting up 28 self-employment promotion cells in 2004.
Employment News
Setting up of Sixth Pay Commission
The trade unions like Bharatiya Mazdoor Sangh, Indian National Trade Union Congress, All-India Trade Union Congress and United Trade Union Congress have asked the Finance Minister to revise industrial wages by constituting 'Sixth Pay Commission' in a pre-budget meeting. They have also threatened to call on nationwide strike if this demand is not met.
There are some significant factors underlying the issue. First, the past experience of the Fifth Pay Commission 1997, show that states have suffered badly on account of increased salary and pension bills. Before the recommendation of the Fifth Pay Commission, the wage bill (including pension dues of Rs 5094 crore) of the centre stood at Rs 21,885 crore in 1996-97. This went by 99 per cent to Rs 43,568 crore in 1999-00. For states, the wage bill went up by 74 per cent to Rs 89,813 crore from Rs 51,548 crore during the same period. As expected, it has taken years to claw back to the fiscal rectification which provides enough reason to think over the ongoing consideration for constituting the Sixth Pay Commission.
Second, leaving aside the fiscal constraint, the questions have been raised that do the salaries of the government employees need to be raised? It is agreed that ten years is enough time to have another look at pay and promotion. However, the government salaries are indexed to inflation and accordingly, the pay part is largely taken care of. Almost 98 per cent of civil servants are overpaid as their salaries exceed equivalent market-driven salaries at all junior levels. The only sensible notion about wage revision is that the salaries should be high enough to attract well-qualified candidates. Therefore, the government requires more groundwork to provide rationale for higher wages at all levels. Undoubtedly, government salaries at senior levels, which are lower than their equivalent industry standards, should be reviewed. Thirdly, if the Sixth Pay Commission is constituted, the issue of redistribution of incomes in favour of relatively better-placed government employees needs to be addressed. Finally, if the government responds to pay hike favourably, there should be some efforts to strengthen accountability and imbibe greater discipline in order to improve efficiency levels of the government employees. Hence, any haste by the government in constituting the Sixth Pay Commission involves deep socio-economic repercussions and therefore, the decision should be cautiously taken.
NREGS
The National Rural Employment Guarantee Scheme (NREGS) of the government, which has proposed to provide 100 days of employment to every rural household per year, has been launched on February 2, 2006 initially in 200 districts. It is proposed that the entire country will be covered in four years. Under the programme, the government is bound to provide jobs within 15 days of receiving an application or else pay an unemployment allowance to the applicant. The government has provided Rs 100 crore to each district for the purpose. The activities under the programme include water conservation, watershed management, drought and flood-proofing, forestry, land development, rural connectivity and wasteland development. To work out the programme, a sum of Rs 10,000 crore will be needed for the remaining months of the current financial year. While Rs 5,500 crore will come from the Sampoorna Gramin Rozgar Yojana fund, Rs 4,500 crore will be obtained from the Food-for-Work scheme.
Global Trends
According to the report released by International Labour Organisation (ILO) titled 'Global Employment Trends, 2005', despite a robust global GDP growth rate of about 4.3 per cent in 2005, the total number of unemployed people stood at 191.8 million at the end of 2005, a rise of 2.2 million since 2004 and 34.4 million since 1995. Another significant trend noticed was that the services sector witnessed a higher rate of labour absorption in total employment across all the regions over the last 10 years, except in West Asia and North Africa . Given this trend, it has been found that, in many countries, agricultural workers are migrating to urban areas for better livelihood. The report has also revealed that though employment gap between women and men had narrowed over the past decade, it still remains wide. In 2005, 52.2 per cent of the adult women were employed as compared to 51.7 per cent in 1995, which has shown some improvement, although not sufficient. Similarly, it has been found that women contributed approximately 40 per cent of the world's labour force.
3. Social Sector
In this section, we cover various developments in the area of social infrastructure like health, education, nutrition, poverty, rural and urban development and demographic indicators like population growth, infant mortality, life expectancy and gender issues.
Social Sector Schemes
The forthcoming budget for 2006-07 may see an increase of around 50 per cent in the allocation of social sector schemes. The budgetary allocation for 2005-06 was Rs 39,766.56 crore, which is now expected to be scaled up to Rs 58,795 crore for the next financial year. However, there are 300 centrally sponsored schemes, which might see only a token increase in their respective allocations. The bigger schemes, however are expected to gain a considerable increase in their allocations. The budgetary allocation for Sarva Shiksha Abhiyaan is pegged at Rs 11,000 crore as compared to Rs 7,800 crore in 2005-06, an increase of 41 per cent. In the case of Integrated Child Development Services, a 14 per cent increase is expected from Rs 3,510 crore in 2005-06 to Rs 4,000 crore in 2006-07. Similarly, other schemes like National Horticulture Mission and the Micro Irrigation Scheme may receive increases of 40 per cent and 37 per cent in their respective budget allocations for the next fiscal year. Likewise, the Rural Housing Scheme may get a 24 per cent increase in its budgetary allocation.
Health
Under the new drug policy for 2006-10, the centre has planned to impose 2 per cent health cess to mobilise Rs 3000 crore for a Rashtriya Swasthya Bima Yojana (National Health Insurance Scheme) for families below poverty line (BPL). The scheme proposes to provide medicine almost free of cost to below poverty line families at their doorsteps. Under the scheme, each BPL family will get Rs 15,000 and Rs 5000 per annum as hospitalisation and non-hospitalisation expenses, respectively. The scheme might eventually be extended to families above the poverty line as well, once the eligibility criteria are set. According to the Joint Secretary of the Ministry of Chemicals and Petrochemicals, one such scheme called the 'Universal Insurance Scheme' is already operational, but it has not yielded expected results as it requires each family member to contribute Rs 1 per day as premium amounting to Rs 365 a year. Therefore, the new proposed health insurance scheme is now expected to bring positive results. While the Ministry of Chemicals and Petrochemicals has mooted health cess in a draft pharmaceutical policy, the committee comprising secretaries of Ministry of Finance, Chemicals and Petrochemicals and Health are also considering separate budgetary allocation for the scheme.
Education
According to the Survey conducted by the Ministry of Human Resource Development, approximately 1.35 crore children (6.9 per cent of all children aged between 6 and 13) are out of schools across rural and urban areas in the country. The bulk of these children, nearly 1.2 crore are from scheduled castes, scheduled tribes, other backward classes or Muslims. Surprisingly, the difference in the number of out-of-schools boys and girls is minimal at about 20,000, which indicates some efforts for introducing gender parity in elementary education. (out-of-school children aged 6 to 10 years is 5.5 per cent for boys and 6.9 per cent for girls.) Interestingly, Assam , Arunachal Pradesh, Nagaland, Manipur and West Bengal have the population of out-of-school children above the national average of 6.9 per cent. The states like Bihar , Jharkhand, Madhya Pradesh, Chattisgarh, Orissa and Rajasthan have shown a high 25 per cent out-of-school children. The survey found that though the government has managed to attract more children into schools through its various programmes, retention continues to be a problem. Of those admitted to schools, 31.7 per cent dropped out after a year, where the leakage points are mainly class 2, 3 and 5. However, when it comes to the age group of 11-13, it is 6.5 per cent for boys and much higher for girls at 10.03 per cent.
Social Security
Social Security for Unorganised Workers
The Centre is expected to finalise the policy document on social security plan for unorganised workers, once the Labour Ministry accommodates the changes in the draft policy as per the suggestion of Prime Ministers Office (PMO). Around 92 per cent of workers are employed in unorganised sector in India . The social security policy is likely to cover old age pension to all workers above the age of 60 years, health insurance for all, maternity benefits for women workers, accident benefits etc. The government is planning to create a national social security fund for this purpose. In addition to grants and loans from the centre, the fund will receive contributions from workers and employers as well. Moreover, all financial contributions made by individuals and institutions to the fund may be given tax exemption under the Income Tax Act.
New Pension System (NPS)
The New Pension Scheme (NPS), which has proposed a structural shift from the 'defined benefit' to 'defined contribution' system, may exclude government staff from its purview which account for just three per cent of the total organised workforce. The Bill, in its present form specifically includes the central government employees who have joined government services after January 1, 2004. The left parties have strongly opposed the NPS, under which contributions are defined, but benefits depend on market returns and the fund managers' expertise. Apparently, the left's concern is to protect the central government employees, one of its main constituencies. Therefore, the left had demanded that opting for NPS should be voluntary for government employees. However, an amendment to the Bill by deleting a particular section concerning central government employees is difficult, since the contribution of new government employees and a matching one by the government have been set aside in a public account. Pending the enactment of the Bill and appointment of pension fund managers, the government pays interest at the rate of 8 per cent to employees' money parked in the public account.
EPFO and the interest rate tussle
After the decision of Employees' Provident Fund Organisation (EPFO) to fix the interest rate on EPF accounts at 8.5 per cent for its 40 million subscribers for the year 2005-06, the disappointed trade unions threatened to call on a nationwide strike on January 20 in protest against Labour Ministry's notification. They have said that it is regrettable when the workers' share is being reduced when the economy is growing at a robust rate of 8 per cent. The labour representatives have asked the Finance Minister to increase the rate of interest paid on 80 per cent of PF money invested in a special deposit schemes. Accordingly, the Finance Minster has told trade unions that the central government could consider taping cash reserves of public sector undertakings (PSUs), which are solely owned by the government. He added that these PSUs hold high levels of liquid reserves to finance expenditure on the social sector or infrastructure.